<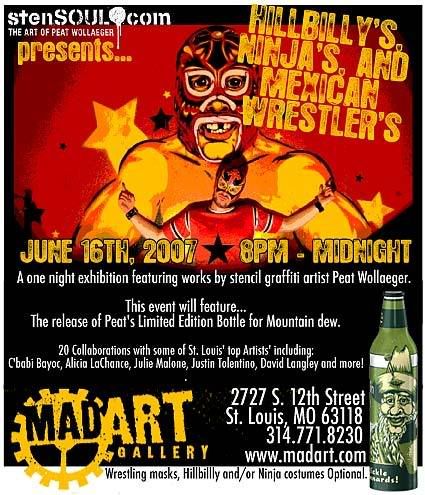 Hillbillys, Ninjas and Mexican Wrestlers
...A one night exhibition featuring works by stencil graffiti artist Peat Wollaeger.


Saturday, June 16th - 8PM til Midnight

Mad Art Gallery
2727 S. 12th Street
St. Louis, MO 63118
314.771.8230
www.madart.com



This event will feature...
The release of Peat's Limited Edition Bottle for Mountain dew.

The World Premier of "Bill Hilly the Stencilbilly"

20 Collaborations with some of St. Louis' top Artists' including:
C'babi Bayoc, Alicia LaChance, Julie Malone, Justin Tolentino, David Langley and more!

Come see some of St. Louis' youngest mexican wrestlers.

A stencil demo by the Artist himself.

Music By...DJ Needles, and a Special Hillbilly Ho-down.

Please come hungry...we'll be servin' up it!


For more info Visit...