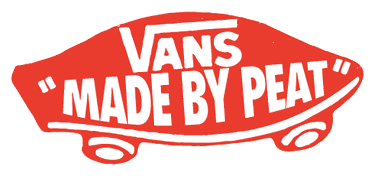 Follow the steps I took to create six custom painted
Vans
Slip-ons.
Start with your bare-bones pair of sneakers (in this case Classic Vans Slip-ons, Tons-o-Real Estate to paint) Make sure they are ever so fresh and so clean.
Next I decided to dye these with
Rit Dye
to give the whole shoe a good base color. Important...before you dye, make sure to run the shoes through a good wash cycle. Then follow the direction on the dye pack from there.
Next I taped off ALL the areas that I did not want to paint. This is quite thereputic !
I sprayed a base grey tone with spray paint and then splatterd paint darker and lighter grays with a brush to give the shoe a good RAW texture.
Next, I cut and designed a stencil and used sticky vinyl material. I also stuffed each shoe with newspaper, so I would have a good hard surface to lay the stencil on.
Normally I would just use Spraypaint...but I have found you get less spray-off and more detial when you use an airbrush. So for these I used a airbrush for each layer.
Finally, pull off all the tape and clean rubber with light mineral sprits...Done!
Oh Yeah, I painted this Ford Falcon to match the shoes...